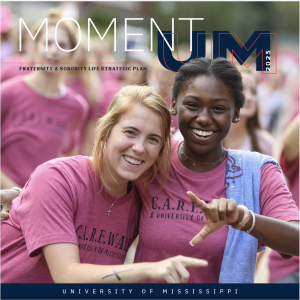 (Click above to access the full version)
MomentUM 2025: Fraternity & Sorority Life Strategic Plan
Established by the Fraternity & Sorority Life Advisory Board and Fraternity & Sorority Life Staff
MISSION
The Office of Fraternity & Sorority Life empowers fraternity and sorority members to embody the values of their respective organizations and the FSL core values, in congruence with the University of Mississippi. We foster a holistic collegiate experience through advising proactively, developing leaders, engaging key community stakeholders, and promoting a safe, healthy and mission-driven fraternity and sorority community.
VISION
We aspire to provide students with the leading fraternity and sorority experience in the nation through a holistic and student-focused approach, ultimately creating global citizens positively contributing to their community, the state of Mississippi and the world.
VALUES
Academic Excellence
Civic Engagement
Diversity, Equity & Inclusion
Health & Wellness
Personal & Professional Development
Our core values serve as our strategic priorities that will guide objectives and metrics that will best inform our practice within fraternity and sorority life at the University of Mississippi.