Greek Awards 2019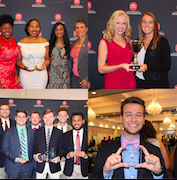 Greek Awards are an opportunity to recognize and encourage excellence in the fraternal community here at the University of Mississippi. Each fraternity and sorority is required to submit a Core Values award application so that all of the many accomplishments of our chapters can be acknowledged. The application process and award ceremony are designed to applaud specific areas of achievement and encourage growth in lacking areas.
The chapter awards are reflective of the five Core Values of Fraternal Leadership & Learning. One Core Value award will be given to a chapter in each of the three councils (Interfraternity, Panhellenic, and National Pan-Hellenic) that demonstrates the most significant effort to embody each specific Core Value. The winning chapter will have exceptional adherence to, or transcendence of, the criteria delineated by the University of Mississippi Fraternity & Sorority Life community.
Awards will be presented at our Greek Awards ceremony, sponsored by Order of Omega and Gamma Sigma Alpha, on April 16th, 2019 at 6:30 pm.
The deadline to submit the awards application is Friday, March 8th, 2019 at 11:45 pm. Chapters who fail to submit awards applications by this deadline will not be in good standing with Fraternal Leadership & Learning until a complete application submitted. All applications should be submitted online through the University of Mississippi Fraternal Leadership and Learning's portal on the Forum. Please note that nominations should be reflective of achievements during the 2018 calendar year
Links to award applications can be found below:
Core Values Awards Application*
Greek/Man Woman of the Year Application
Outstanding Emerging Leader Application 
Outstanding Advisor or Alumnus Application 
Outstanding Chapter President Application
Outstanding Community Servant Application
Outstanding House Director Application
*to be submitted by the chapter president or other designated representative
If you have any specific questions about Greek Awards applications, please contact Graduate Assistant Jamison Carson by email or 662-915-7609.