Meet our Staff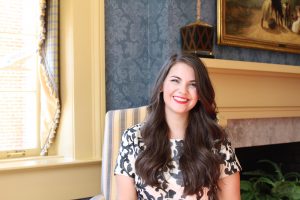 Alexa Lee Arndt
Alexa Lee Arndt is currently serving as the Interim Director of Fraternity & Sorority Life. She previous served the University of Mississippi as a coordinator of Fraternity & Sorority Life. She earned Bachelor of Arts degrees in both international studies and public affairs and minors in political science and leadership studies from The Ohio State University and a Master of Science in education with a concentration in higher education and student affairs from Indiana University. She brings experience as a volunteer for her national organization, an ASTP facilitator for two NPC organizations, a student organization conduct board adviser, an NPC intern and alumnae association member.

Brooke Hubbard
Brooke currently serves as a Coordinator of Fraternal Leadership and Learning. She is passionate about advancing the fraternal movement and strives to provide meaningful experiences to collegiate members of the fraternity/sorority community. She graduated from Murray State University in 2015 with a Bachelor of Science degree in middle school education and in 2017 with a Master of Arts degree in postsecondary education. She is an active member of her national organization's alumnae chapter and brings with her experiences in facilitation, curriculum development, and large-scale programming.
Eddie Labid
Eddie Labid is a graduate assistant in the Office of Fraternal Leadership & Learning and is currently a 2nd year graduate student in the Higher Education/Student Personnel Master's Program at Ole Miss. He earned his Bachelor of Arts degree from Baylor University majoring in Communications and Film & Digital Media. Eddie is the president of the Ole Miss Student Personnel Association and also serves as an alumni advisor and chapter advisor for his fraternity. Eddie brings a variety of experience within student affairs having worked in community engagement & service, student housing, and student conduct.
Donta Corshawn 
Dismuke
Donta Dismuke is currently serving as a first-year Graduate Assistant for the Office of Fraternal Leadership & Learning. He has earned a Bachelor of Arts degrees in both History and African and African American studies from The Univerisity of Arkansas. He brings experience as a former chapter officer for his national organization, past Academic Excellence chair for NPHC at the University of Arkansas, and involvement in many other various student organizations where he has held leadership positions serving to bring about community uplift and involvement. 

Jamison K. Carson
Jamison is a first-year graduate student in the Higher Education and Student Personnel program and a Graduate Assistant in the Office of Fraternal Leadership and Learning, working specifically with Panhellenic. She is an alumna of the University of Houston, where she earned a BA in Human Development and Family Studies and was involved as a Senior Resident Advisor for Student Housing, an active member of her sorority, a Panhellenic Executive Board member, and as an ambassador for the Center for Diversity and Inclusion.
Click here to see the department's organization chart.